Eaton's new DualGuard emergency lighting technology means that you can now simplify your design whilst reducing installation and operating costs. Ryan Houston, UK Emergency Lighting Sales Manager from Eaton, explains how.
As a safety critical building component, emergency lighting systems have strict requirements for product compliance, system design, maintenance, and testing. There are several factors that will determine what sort of system you opt for including the size and complexity of the building.
In today's business environment, cost is a vital consideration, but not at the expense of compliance and safety.
Traditionally the debate has always been self-contained emergency luminaires vs a central battery system and then whether you opted for automatic or manual testing. The trade-off was a higher initial investment weighed against lower ongoing costs. The advantage of Eaton's DualGuard AC/DC system is that you can now lower the initial capital cost by up to 30% compared to an AC/AC central battery system and have all the benefits of a central battery system with automatic testing to minimise ongoing operating costs – but more on that later.
First, let's get back to basics. Depending on the needs of your project, you might opt for self-contained emergency lighting or a central battery system with either manual or automatic testing.
Self-contained vs central battery system
As its name suggests a self-contained emergency luminaire contains its own battery, light source, control unit and any test or monitoring equipment. This will either be inside the luminaire or connected via short (typically <1m) cabling.
A central battery system, or central power system, has a central battery that supplies 'secondary' emergency luminaires that have no onboard battery. This centralised battery is supported by a charger, changeover devices and alarms in case of mains failure. In the case of a traditional AC/AC Static Inverter System, the unit will also contain an inverter to convert the DC battery supply into an AC supply to power the lighting in the event of a mains failure.
AC/AC central battery systems have a higher initial installed cost versus self-contained systems. However, battery life can be four times longer and when they do need replacing, it's much simpler; avoiding the disruption, time and significant associated costs of having to access multiple points around the building, changing batteries across numerous luminaires.

Testing – manual vs automatic
The Regulatory Reform Order (Fire Safety Act 2005) requires the building owner to test emergency lighting to ensure that the luminaires are all working. This testing starts when a system is commissioned and then at regular intervals throughout its life. The owner needs to keep records of this testing to demonstrate compliance with the regulations.
This is where the system that you specify can make a real difference to the end user for ongoing testing and maintenance costs.
For self-contained emergency lights, they will need to inspect unmonitored luminaires visually by switching them manually and checking that the battery functions under required conditions. They need to do this at least monthly. They will also need to complete an annual duration test to check the full marked duration of the batteries, typically 3hrs in the UK.
A self-contained luminaire can have a simple green LED to indicate that the voltage comes from the battery charge circuit rather than from the mains. A test button simulates a mains lighting failure when pressed and the luminaire should illuminate.
You can also get self-contained luminaires that have an automatic test for weekly function and annual duration tests so the need for physically pressing the button (which often requires a ladder) becomes redundant. You still however must check them visually and record the results manually, which can take time and incur costs.
Automatic testing and monitoring removes the time and expense from manual testing. Not only do such systems remove the management time and administration out of testing, but also simplify compliance.
Automatic testing and monitoring are available for self-contained systems using products such as our own CGLine+ and for central battery systems.
A cost comparison
Building owners and designers should consider the total cost of ownership for an emergency lighting system. This should consider both the initial capital outlay for the system, its installation and the ongoing testing and maintenance costs over its lifetime.
Looking at the example below you can see how total costs evolve over time. While the initial capital outlay is lower for a self-contained system that relies on manual testing, total cost of ownership vs both centrally monitored self-contained and the centrally powered systems is comparable over a relatively short period of time. However, due to savings associated with significantly lower operational costs, total cost of ownership of a centrally powered system can be significantly less vs others over its lifespan.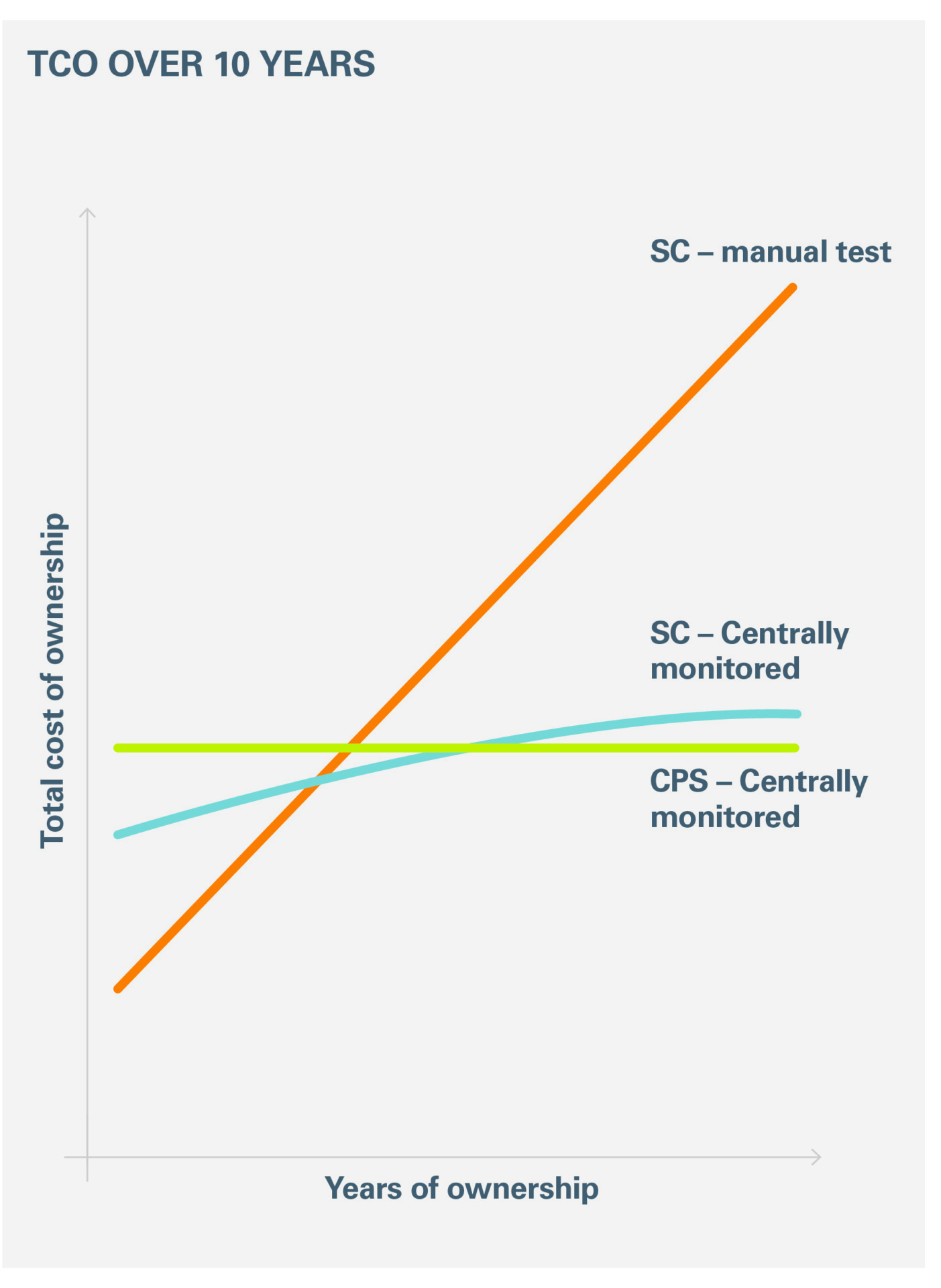 Lowering Capex for a central battery system.
Despite an initial larger investment, a central battery system can save the building owner a lot of expense, time and disruption for both testing and maintenance.
But what if you could lower this initial investment by a further 30% and also reduce future maintenance costs?
Eaton's DualGuard system uses AC/DC technology, which means that it powers emergency lighting using DC power under a mains failure. Powerline technology provides power, control and monitoring within one cable. This allows maintained, non-maintained, switched and DALI dimmable luminaires to be on the same circuit. Overall, this architecture significantly reduces the amount of cable (material) required ; simplifying design and making installation faster.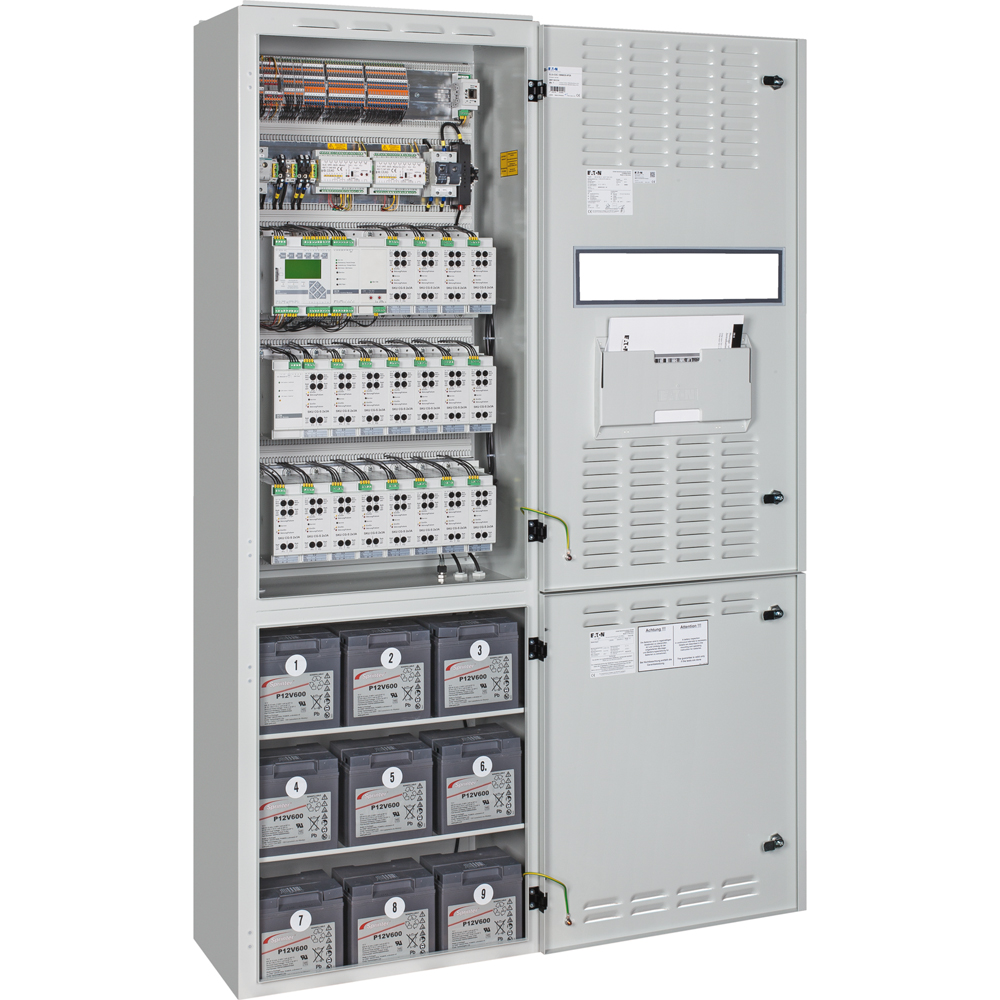 DualGuard also provides the capability to dim LED lamps in emergency luminaires to a reduced output in emergency mode whilst maintaining full output when the mains supply is healthy. This significantly reduces the battery capacity required (up to 50%) along with associated space and cost.
Additionally, with DualGuard you don't need an inverter as you would with an AC/AC central battery system, therefore allowing further spatial savings by on average 33% versus a traditional system footprint.
A final notable feature of DualGuard is battery block monitoring; allowing the end user to monitor the health of individual blocks and removes the need to replace full battery strings during a system's life.
It means that if a block is faulty then the other batteries do not need to charge and discharge more often to balance this – which further improves their life. This reduces the cost of replacement, time and labour for batteries by up to 95%.
And just like other connected systems, DualGuard automatically tests and monitors the emergency lighting system to make compliance simpler, faster and more cost effective. It is not only designed to meet today's requirements but also the future requirements of BSEN-50171 2024 through third party accreditation and being cyber secure.
The DualGuard system from Eaton simplifies design, maintenance and operation reducing CAPEX and OPEX without sacrificing safety; it's a real win-win for the designer, installer and the end user.Proven in a significant sum of installations across the UK and Europe, including Warwick University, where the safety of staff and students is critical. To find out more about Emergency Lighting design and total cost of ownership why not find out more here