The Dogger Bank Wind Farm, which will be the largest offshore wind farm in the world on completion, has delivered power to the UK electricity grid for the first time. 
When it's fully built, the Dogger Bank Wind Farm will boast 277 turbines and will be capable of delivering a maximum transmission capacity of 3.6 GW. However, the site is a long way from completion, with the very first wind turbine having only just been turned on.
Despite being located more than 130km off the North East coast of England, the first wind turbine at Dogger Bank A was made operational in a relatively short time period. In fact, Hitachi Energy, which provided its HVDC Light system to connect the wind farm to the grid, noted that the 1,200 MW offshore platform project was successfully executed in a record time of 38 months – even when faced with Covid-19-induced disruptions.
This represents the first time a wind farm built in the UK has used HVDC technology, while it is also the first installation of GE Vernova's Haliade-X 13 MW wind turbine in an offshore wind farm anywhere in the world. The significance of that milestone is that each rotation of the 107m long blades on Dogger Bank's first operational turbine can produce enough clean energy to power an average British home for two days.
Dogger Bank is being developed and built by the UK's SSE Renewables in a joint venture with Norway's Equinor and Vårgrønn. When complete, the project will have the ability to power up to 6 million homes at its peak generation, or around 5% of the UK's electricity needs. That has led Prime Minister Rishi Sunak to hail the project as further evidence the UK continues to lead the transition to renewable energy.
"Offshore wind is critical to generating renewable, efficient energy that can power British homes from British seas," Sunak commented.
"I'm proud that this country is already a world leader in reaching Net Zero by 2050, and by doubling down on the new green industries of the future, we'll get there in a way that's both pragmatic and ambitious.
"That's why it's fantastic to see the world's largest wind farm, Dogger Bank, generating power for the first time today from UK waters, which will not only bolster our energy security, but create jobs, lower electricity bills and keep us on track for Net Zero."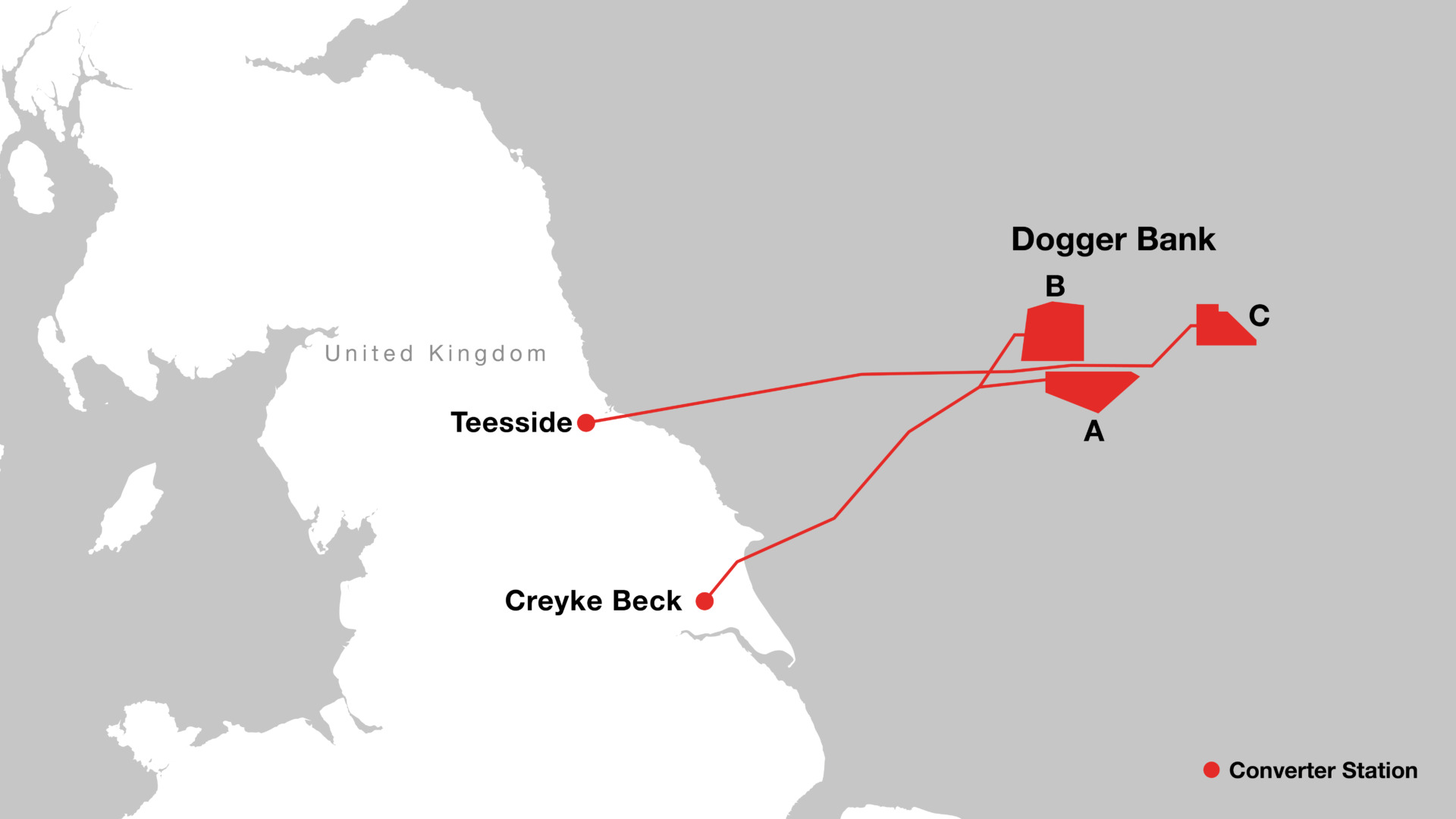 Alistair Phillips-Davies, Chief Executive of SSE, said, "There's been lots of talk about the need to build homegrown energy supplies, but we are taking action on a massive scale. Dogger Bank will provide a significant boost to UK energy security, affordability and leadership in tackling climate change. This is exactly how we should be responding to the energy crisis.
"But it is also a landmark moment for the global offshore wind industry, with Dogger Bank demonstrating just what can be achieved when policymakers, investors, industry, and communities work together to achieve something truly remarkable.
"The innovations this pioneering project has developed will also mean future developments can be built faster and more efficiently, accelerating the clean energy transition. Now, of course, the challenge is to accelerate the next wave of these projects and we look forward to working with governments to bring these forward as soon as possible."
Andreas Berthou, Head of HVDC at Hitachi Energy's Grid Integration business, added, "The urgent energy transition requires strong collaboration, new business models, and global standards.
"We are proud to be the technology partner for the Dogger Bank Wind Farm project, with HVDC being the force multiplier for the clean energy transition, increasing access to an energy system that is more sustainable, flexible and secure. Today is a significant milestone in securing the UK's future energy needs, made possible by foresighted partners such as SSE Renewables, Equinor and Vårgrønn that have made the UK a leader in the transition to clean power."