Battery electric vehicles represented one in five of all new cars sold in August 2023, according to new figures from the Society of Motor Manufacturers and Traders (SMMT).
Despite the UK Government removing all financial incentives to buy an electric vehicle, the market shows no signs of slowing down. Battery electric vehicles represented 20.1% of all new car sales in August 2023, compared to 14.5% a year ago – surpassing many industry expectations.
August is typically a quiet month for new car sales as buyers wait for the new number plate to be released in September, but the number of new cars sold grew by 24.4% on 2022 figures. While nearly all new categories of vehicles enjoyed growth – except for mild hybrid diesels and pure diesels – battery electric and plugin-hybrid vehicles experienced the highest growth figures, growing 72.3% and 70%, respectively.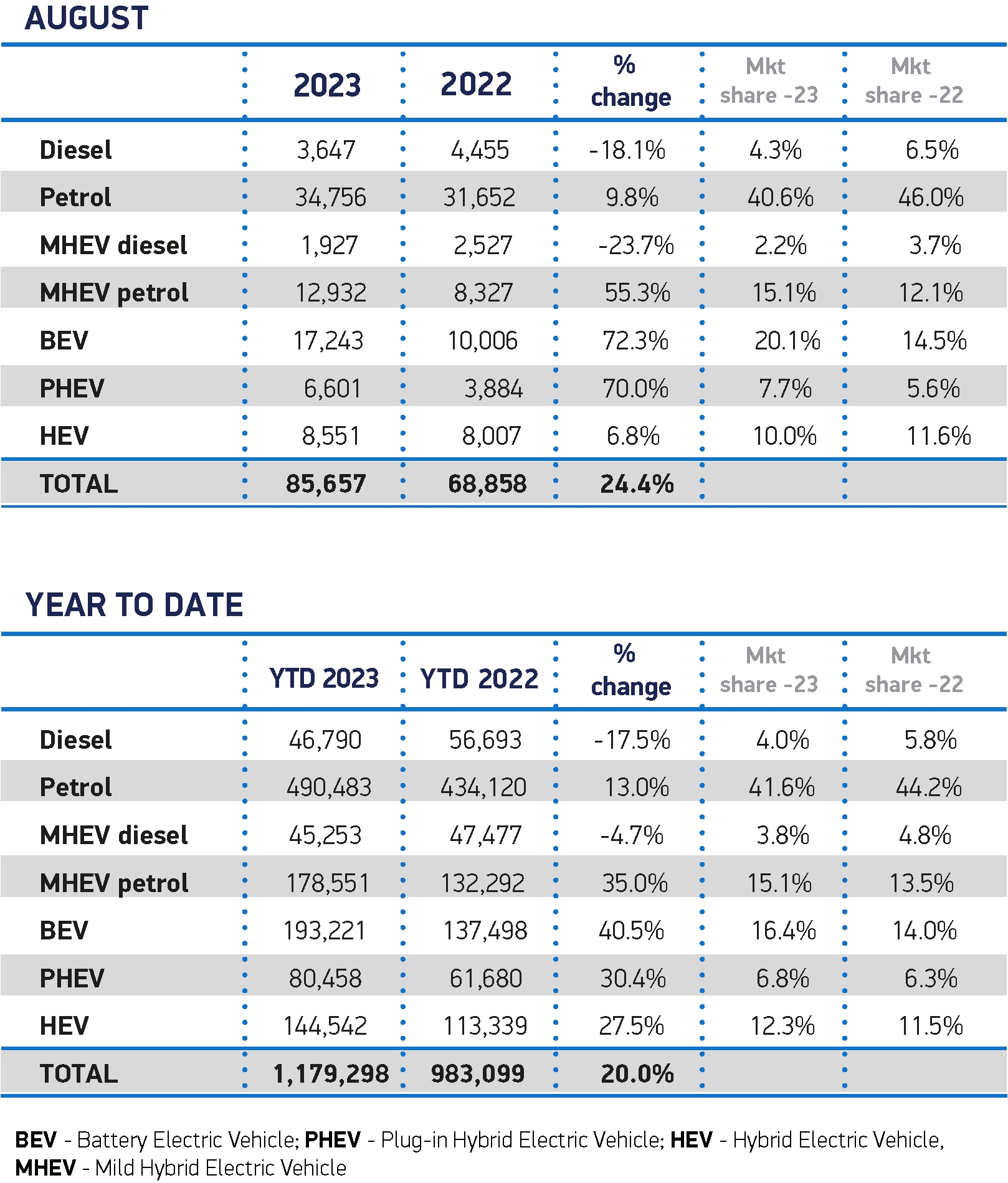 The growing demand for electric vehicles comes despite the UK Government reportedly mulling a delay in the ZEV mandate. The mandate is expected to kick in in 2024, with zero emission vehicles expected to make up 22% of a manufacturer's total car sales in a year – a figure the industry is just short of. In fact, year-to-date, battery electric vehicles made up 16.4% of all new car sales – with some car manufacturers clearly better off than others.
Mike Hawes, SMMT Chief Executive, noted, "With the automotive industry beginning a second year of growth, recovery is underway with EVs energising the market. But with a new Zero Emission Vehicle Mandate due to come into force in less than 120 days, manufacturers still await the details. Businesses cannot plan on the basis of consultations, they need certainty. And now, more than ever, the Government must match action to ambition, ensuring there are the incentives and infrastructure in place to convince drivers to make the switch."
The UK car industry is reportedly supportive of the ZEV mandate, although elsewhere in Europe fractures have begun to show regarding some car manufacturer's ambitions for a net zero future. Mercedes-Benz recently noted that it doesn't believe Europe will be ready for 100% of new car sales to be electric in 2030, which is five years before the bloc's ban on the sale of new petrol and diesel cars from 2035.