Dublin Port Tunnel in Ireland, which opened in 2006 to help ease traffic in central Dublin for the thousands of HGVs that were travelling to the port, recently upgraded its lighting system – with the resulting system providing electricity savings of 60%.
For its 17 years of operation, the tunnel has utilised Philips WRTL SON-T lighting, which uses tubular high pressure sodium technology. Since its installation, the world of lighting has advanced significantly, with LEDs coming down in cost, while simultaneously their reliability and energy efficiency has improved.
That improvement in cost, reliability and efficiency is why Transport Infrastructure Ireland (TII) instructed tunnel maintenance operator ERTO to find a new solution for the tunnel's lighting – with energy costs and quality of light in the tunnel both top priorities.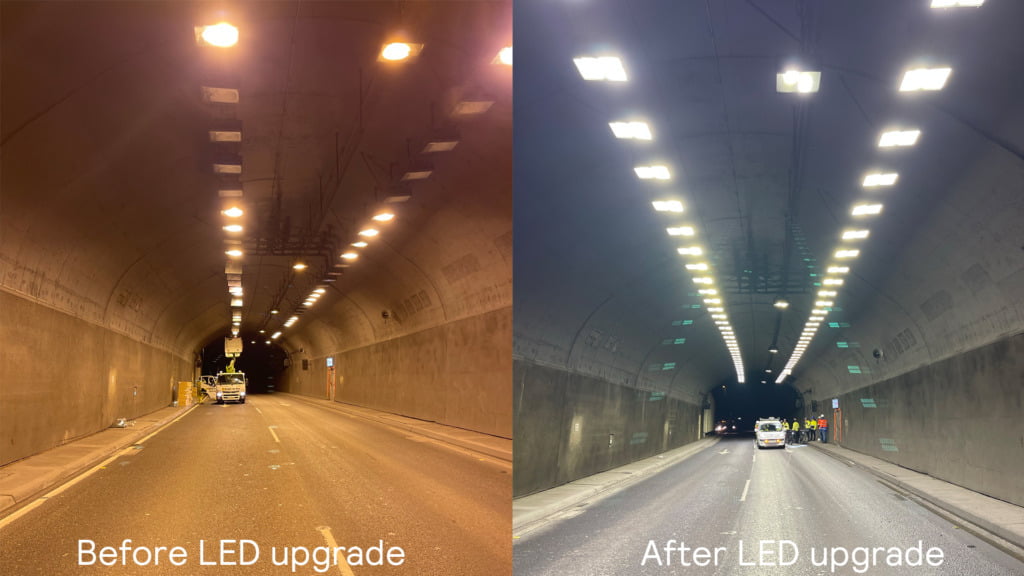 Given the existing light fittings were provided by Philips, the company naturally approached Signify, which was formed after Philips spun off its lighting division in 2016. The good news for ERTO was that Signify was able to replace the existing lighting within the tunnel while retaining the existing fittings – a huge boon for the sustainable credentials of the project. 
Before installing the new Philips METIS 2816 LED insert trays into the existing housings, they were all retested and CE marked to current standards. While that benefited the circular economy, leading to minimal material waste, it also meant that the installation could be completed with minimal disruption to road users. 
Installers worked during late night and early morning hours over five weeks, with each lantern taking just five minutes to strip out and replace. Reusing materials also kept the project's capital expense to a minimum, saving an estimated €3 million (£2.6 million) compared to a new installation.
It wasn't just installation costs that were kept low, with ongoing energy costs also expected to be significantly lower. In fact, Signify estimates that the tunnel will see 60% lower demand for electricity with the LEDs versus the old lighting, that's the equivalent of the electricity consumed by up to 300 Irish households.
In fact, the project is expected to save upwards of €4 million (£3.3 million) in electricity costs including VAT over the coming five years.
An additional benefit of the LEDs is the improved quality of lighting for drivers in the tunnel to CRI70 from a low of CRI25. CCTV operators will also benefit from the improved visibility, which could lead to improved safety for all road users.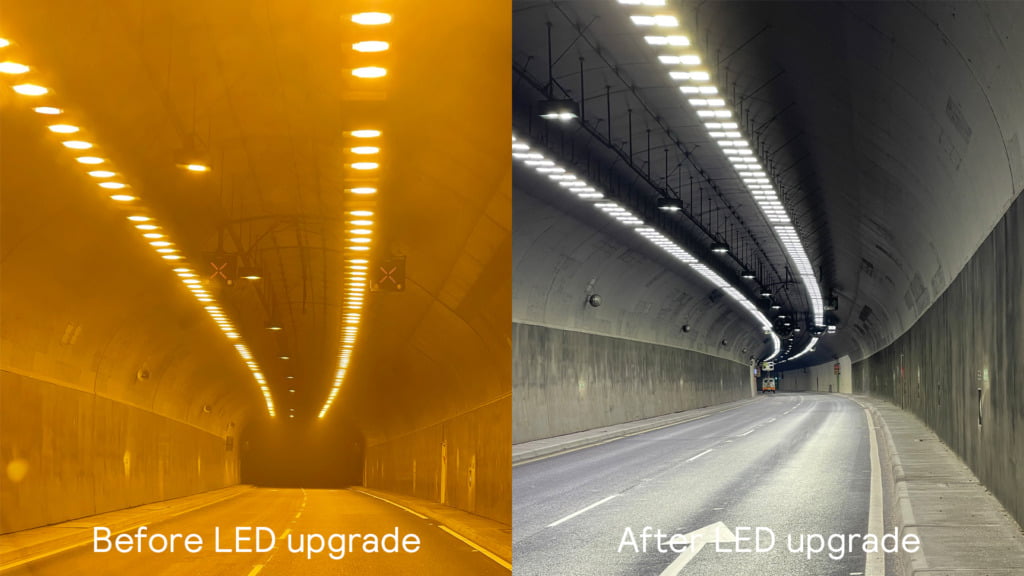 The project is part of the Irish government's energy efficiency plans and was partially funded through the European Green Deal.
Patrick O'Hanlon, Senior Engineer at TII, noted, "We are delighted to have worked with Signify on this project. The replacement of the original SON lamps with LED inserts is a huge step towards reducing the carbon emissions, energy consumption and future maintenance of the Dublin Port Tunnel, while also improving overall lighting and power quality."
Sean Campbell, Key Account Manager – Road Lighting, Signify Ireland, added, "Dublin Port Tunnel is unique in Ireland and high traffic flows from the port of Dublin. Working with the customer and assessing the balance of maintenance costing along with energy prices on the rise, our R&D team successfully developed and tested a product that was cost effective and energy efficient. Collaborating with the customer who trusts Signify to deliver on a circular economy project that reduces energy consumption while increasing the power factor has been a real pleasure.''
Dermot Deely, Managing Director, Signify Ireland, concluded, "With public lighting accounting for 24% of Dublin Council's energy expenditure, energy efficiency projects like this one can make an enormous positive impact. Through a relatively simple upgrade, we've been able to improve light quality, cost, maintenance, and sustainability for Dublin Port Tunnel. We are particularly proud to have supported these environmental goals while giving a second life to many of the materials that were already in place."